Abbott's Drawing Cards
Saxton and Miles (New York) published the first sets of Abbott's Drawing cards. They were co-published with James M. Campbell from Philadelphia and Saxton and Kelt from Boston These were prepared by Jacob and his brother John S. C. Abbott for the use of schools and families. The cards are designed to teach drawing in a systematic way. The cards help the student move from the simplest principles to much more complicated methods. An 8 page booklet with "directions" accompanied each set.

In 1845 the first three sets published were Elementary, Outline and Cottage. The fourth set was Foliage also published in 1845. At that time each set contained 32 cards and the series had 128 cards.

Later in 1845 Saxton and Miles published the fifth and sixth sets which were Animal and Head.

The Saxton and Miles direction pamphlet is shown here.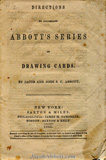 When Clark, Austin and Company first published the cards in 1847, each set had 32 cards and just the original six series were printed. Later in 1847 series #7 was added- Flower.

By late in 1847 Clark, Austin & Company was publishing ten series (sets). Clark, Austin and Smith printed 10 series at 50 cents each in 1852:
Elementary
Outline
Cottages
Foliage
Animal
Head
Flower
Birds
Landscape
Figure

The Clark, Austin and Company Landscape Series box top and several card pictures are shown below.
When Robert B. Collins published these cards, it printed 3 sets of 40 cards each. These sets cost 50 cents each and were published in 1851. The box was titled: Abbott's Common School Drawing Cards.

Set 1- Landscapes, designed by B. H. Coe
Set 2- Landscapes, designed by J. A. Cleveland
Set 3- Flowers, designed by J. A. Cleveland